If you have a
veterinary emergency
Call Now
Emergency Vet: Randolph, Upshur, Barbour, Tucker & Preston Co., WV
Emergency Veterinary Medical Treatment Available 24 Hours a Day, 365 days a year*
*On Farm emergency service is available to established clients only.
Non-established clients may haul to our hospital location for emergency care. Emergency and after hours on farm service is not provided to non-established clients.
Please note that while we strive to accommodate our clients and provide prompt care to our patients, service availability is not guaranteed due to high demand during certain times.
Emergency after hours care must be initiated by telephone as the hospital is not currently staffed overnight. Please call 30 minutes prior to your arrival so that we may prepare for your arrival.
Allegheny Equine Veterinary Service
1605 Parsons Road (Old US 219 North)
Elkins, WV 26241
(304) 636-8363
GPS Coordinates:
Latitude: 38.967562 | Longitude: -79.842687
DMS:
North 38 degrees, 58′ 3.223"
West 79 degrees, 50′ 33.673"
Driving Directions: From Corridor H (US 48, US 33), Take the Elkins Exit. Proceed toward Elkins. Turn LEFT onto Old US 219 North (at Central Supply). Proceed 1.5 miles. The entrance to Allegheny Equine Veterinary Service will be on your LEFT (in Gilman).
For after-hours emergency service, you may reach our on-call veterinarian by calling (304) 636-8363. An automated recording will answer. Press 1 to page the on call doctor. Keep in mind that the veterinarian on call may be with another patient or unable to reach the phone immediately. Leave a clear message including the nature of the emergency and a phone number that you may be reached. The on-call veterinarian will return the call as soon as they are available. 
What to do in an Emergency Veterinary Situation
Keep the phone lines open! Many times we have trouble returning emergency calls due to busy phone lines.
Have a clear set of directions available to direct our veterinarian to the horse's location.

Be prepared with a description of the horse's age, breed, sex, and symptoms.

Inform us immediately and clearly if referral or surgery is an option.

Inform us immediately if the horse is insured. Have your insurance information available.
What Symptoms Are Considered an Animal Emergency Situation
Although there are many types of veterinary emergencies, the following situations and symptoms should always be considered an emergency:
Fever over 102.5° F
Eye Injuries / Squinting
Colic (rolling, pawing, flank watching)
Lacerations
Sudden Lameness
Decreased or No Appetite
Unable to Get Up
Choking
Diarrhea
Foaling Mare That Fails to Progress (A normal foaling should only take about 30 minutes from the time the water breaks to the foal on the ground.)
Sick or Injured Horse? Call If You Have Questions!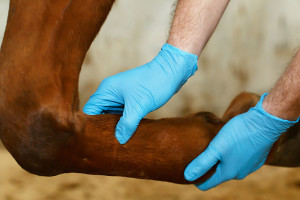 If you are unsure whether your animal is injured or sick, it is better to call sooner, rather than later. Remember that this service is mobile, so we are often out of the office or away from the phone. Always leave a complete message including name, number, best time to call, and the reason for your call. Indicate clearly whether the call is a potential emergency. We will return your call as soon as possible. Emergencies are given priority for callback. Regular calls are usually returned within 24-48 hours.
How to Assemble An Emergency First Aid Kit for Your Farm
Many of our clients live in remote areas. When an emergency situation occurs, you must respond promptly to stabilize the situation until professional veterinary help arrives. We are often asked how to assemble an emergency first aid kit for horses and other farm animals. Your emergency kit should include the following supplies:
The phone number for Allegheny Equine Veterinary Service: (304) 636-8363
Digital Thermometer
Scissors
Flashlight
Watch
First Aid Tape
Duct Tape
Vetrap or Other Bandage
Leg Quilts
Clean Towel
Hoof Pick
Antibacterial Soap
Sheet Cotton
Latex Gloves
Wound Dressing
Electrolyte Paste
We also recommend that you prepare easy-to-follow directions to your farm and write down an inventory list of the items included in your first aid kit for reference, as you must act quickly to take control of the situation. A kit should be located in each animal housing unit, as well as on vehicles used in the field. Additional, specialized materials may be recommended for certain animal populations.