Allegheny Equine Veterinary Service
Horse Veterinarian Offering Diagnostic, Hospital, and Ambulatory Service
At Allegheny Equine Veterinary Services, we are continually expanding our services to offer our patients the best healthcare possible throughout our service area. We are also happy to collaborate with specialists around the world for consultation and referral to ensure the best outcome for our patients. Our services include comprehensive diagnostics, intensive care hospitalization, emergency care for established patients, on-site farm ambulatory service, as well as the following:
Health Certificates, Insurance Exams, Equine Event Permits, Micro-chipping, FEI Passports, Home Delivery of Medications, and Canadian Export.
Horse Preventative Care and Vaccinations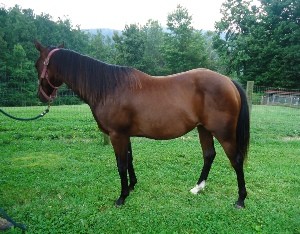 Annual exams are critical to establish a relationship with the patient, get to know their quirks and normal habits, and most importantly, to detect abnormalities early. Each patient is evaluated as an individual and vaccinated with a customized schedule based on risk. From the pleasure horse to the international competitor, we can help you develop an appropriate preventative health care plan.
Parasite Control and Dewormer for Horses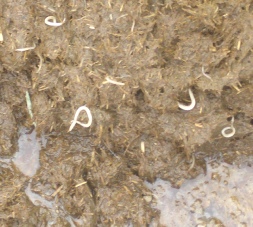 Parasite resistance is becoming more prevalent in all animal species from inappropriate use of anti-parasite medications. Strategic deworming involves identifying your horse's natural immunity status and management situation and then using this information to develop a custom deworming plan. Effective parasite control can be simple and cost-effective when applied in consultation with your veterinarian. Do not waste time and money on unproven products. Contact us today.
How to Prepare a Fecal Sample to Identify Parasites
Fresh fecal samples should be collected and sealed in an airtight plastic bag and refrigerated immediately. Once submitted to our office, we will evaluate the feces for a Fecal Egg Count and then recommend an appropriate parasite dewormer. A Fecal Egg Reduction Count may be recommended to determine whether drug resistant parasites are present on your farm.
Nutrition Counseling for Ponies and Broodmares to Geriatric Horses
Whether overweight or underweight, we are happy to review current feed practices and advise appropriate feed plans for different ages and stages of life from ponies and broodmares to geriatric patients. Nutrition consultation is also critical in management of certain diseases such as Cushings (PPID), Metabolic Syndrome, and gastric ulcers.
How Do I Assess a Body Conditioning Score on My Horse?
Equine Dentist for Routine and Advanced Dental Care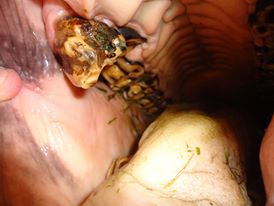 Both routine and advanced dental care are offered using the latest motorized equipment (Powerfloat). All dental exams include a complete oral exam using a full mouth speculum, sedation, and pain medication. Annual dental exams are recommended. Our dental services include:
Performance Floats
Corrective Dentistry
Alignments
Molar Extractions
Wolf Tooth Extraction
Periodontal Treatment
Internal Medicine, Diagnosis & Treatment of Equine Health Conditions
Allegheny Equine Veterinary Service offers a wide range of medical services including evaluation of colic, diagnosis and management of infectious disease, neurology, dermatology, and neonatal care. Special field services include IV fluid therapy, foal plasma transfusions, and blood transfusions. AEVS has established excellent relationships with several board certified specialists for case consultation and referral if needed.
Our Equine Ophthalmologist Makes House Calls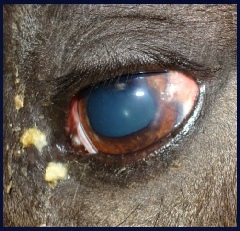 From simple ulcers to cancer, many eye problems can be treated right on your farm by our equine ophthalmologist. House calls are available. We use advanced treatment techniques such as sub-palpebral lavage systems and infusion pumps to facilitate treatment of the patient. Commonly treated ocular problems include corneal ulcers, eyelid lacerations, equine recurrent uveitis, and cancer of the eye and surrounding structures.
On Farm Lameness Diagnostic Exams, Imaging, and Treatment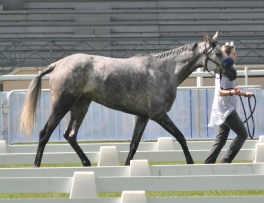 Complete lameness diagnostic exams are conducted by collecting a thorough history, careful observation, and examination techniques including palpation, flexion tests, and peri-neural or intra-articular nerve blocks. Patients are generally examined in a straight line and/or lunged on both hard and soft footing. Diagnostic imaging is available on-farm with digital x-ray and digital ultrasound. Treatment plans are created based on the diagnosis and may include: joint injections, exercise/physical therapy plans, shoeing recommendations, and oral medications.
Digital Radiography
Platelet Rich Plasma
Digital Ultrasound
Therapeutic Farriery
Reproductive Services for Mares and Stallions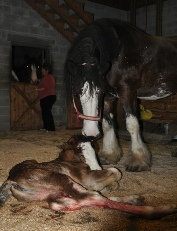 Allegheny Equine Veterinary Service offers a wide range of reproductive services for stallions and mares. We understand the necessity of securing your investment and the health of your horses. The following procedures and treatments for mares are available on-site or at our facility in Elkins, WV:
Palpation for Pregnancy
Embryo Recovery & Transfer
Artificial Insemination
Uterine Cytology / Culture / Biopsy
Breeding Soundness Exam
Digital Ultrasound
We also offer breeding soundness exams for stallions. These comprehensive exams are useful for determining the reproductive fitness of stallions by collecting a thorough history, as well as performing a variety of internal and external physical examinations which may include libido analysis, signs of lameness, certain undesirable heritable conditions, breeding ability and desirability, testes and epididymus size, mobility, consistency, and shape, testicular volume, daily sperm output, and other relevant issues that may affect breeding soundness. In addition, we will examine the genitalia for lesions, signs of disease, and infection via visual observation and culture.
Equine Surgery, Tumor Removal, and Castration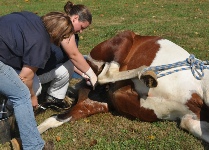 Surgeries are performed with the assistance of a trained technician. All surgical patients receive injectable anesthesia and appropriate pain management. This may include injectable or oral pain medications combined with local anesthetics. A consultation with Dr. Walker can help determine whether your horse requires a surgery that can be performed on-farm or should be referred to a board-certified specialist. The most common surgeries we perform are:
Castration
Mass and Tumor Removal
Cryptorchid Castration
Neurectomy
Enucleation
Abdominal Hernia Repair
Check Ligament Desmotomy
Laceration Repair
Pre-purchase Equine Examination for Buyers and Sellers of Horses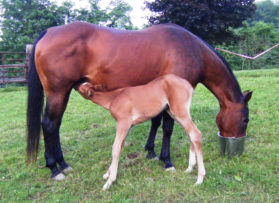 AEVS takes the pre-purchase exam very seriously. The goal of a pre-purchase exam is not to "pass" or "fail" the horse, nor should it be considered a guarantee of the horse's future. However, a pre-purchase exam is a very valuable assessment that should be part of your decision to purchase. The exam involves an in-depth physical exam of all of the body systems and a lameness exam. The entire exam generally takes about two hours to complete. Additional diagnostics can be performed upon request (i.e.: x-rays, Coggins testing, drug testing). A standard form is used to document our findings and ensure consistency of the exam. This form is provided to potential buyers for preview.
Pre-Purchase Seller Disclosure
Humane Euthanasia for Horses
We understand that end-of-life decisions may be difficult to discuss. We are very willing to help guide you through the decision-making process. When you have questions about determining life quality, we can help. If humane euthanasia is the right decision, we offer this service, as well as burial planning assistance, in a professional and compassionate manner.
Podiatry & Farrier Services
We are blessed with several excellent farriers in our practice area. Our doctors often collaborate with farriers to optimize patient care and outcome. Our digital x-ray is an invaluable tool for podiatry and therapeutic shoeing. Our new hospital has a designated podiatry area just for working with farriers. Please feel free to contact us to coordinate a farrier appointment with your lameness exam.